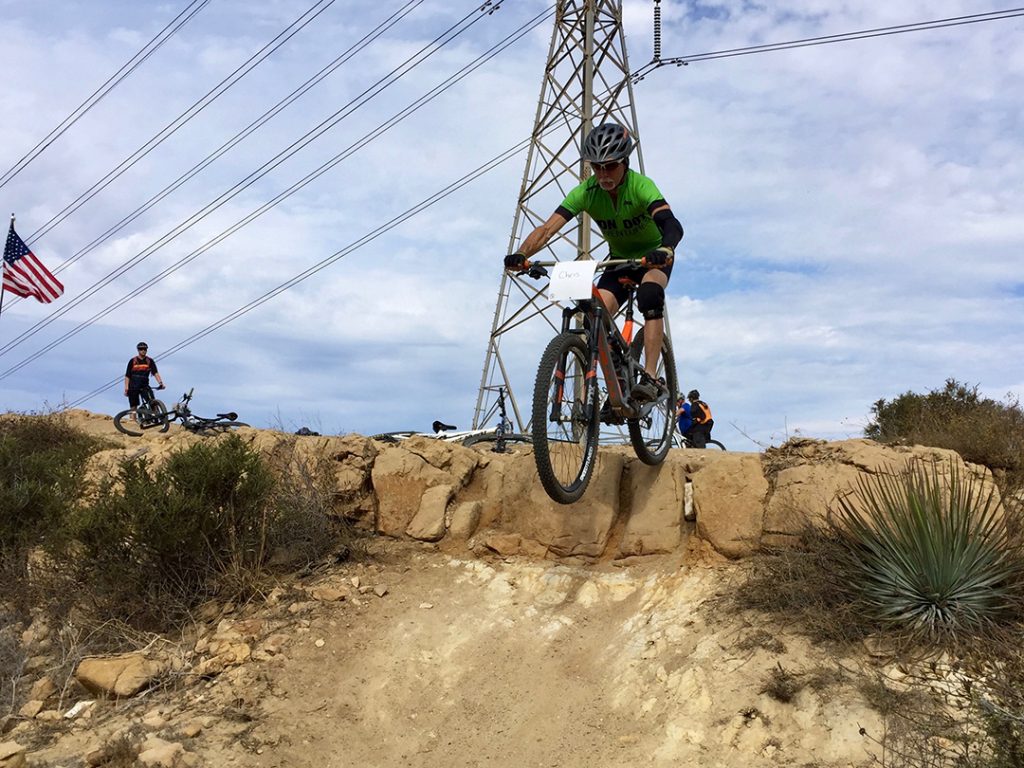 Clinic dates: New dates coming soon!
Non Dot Adventures brings you an advanced mountain biking skills clinic. We highly recommend taking our confidence building skills clinic first.
Cost: $200 for 4 hours of on trail instruction at Santiago Oaks with coaches Jeana Miller and Jon Kearley
Who:  Intermediate / Advanced level riders looking to improve skills. (Only 8 spots available!)
When: New dates coming soon! from 12pm until 4pm
Where: Irvine Regional Park – 1 Irvine Park Road, Orange, CA 92869 (Parking Lot C)
What: We will quickly go over the basics in a controlled setting in Irvine park. Then, we will take to the trails of Santiago Oaks. Focusing on the following skills –
Conquering switchbacks (both uphill and downhill)
How to maintain traction on a variety of climbs
Proper braking on downhill fast sections
Descending rocky areas and drops
Cancellation policy: Refund or transfers are available up to 5 days before the clinic. After that, we can only refund your spot if we have a current waiting list with someone willing to take the spot.
E-Bike Policy: OC Parks does not allow E-Bikes on the trails in Irvine Park or Santiago Oaks. Unfortunately, we are not allowed to accept E-Bikes in our advanced clinics at this time. You may contact OC Parks ahead of time if you would like to ask for an exemption.
Feedback from past mountain biking clinics:
"If you are desiring to further your MTB skills, this is the perfect clinic for you. You'll receive informative information and have an opportunity to put into practice what you learn. Friendly, encouraging staff. When I first arrived, I was timid but by the end of the clinic, I was very encouraged and left with an "I can do this" attitude! Had a blast and met very nice people. So, conquer your fear and join in on future clinics. You'll be glad you did. Thank you Non Dot for all you do. Looking forward you your next clinic"
"Excellent clinic to take me to the next level! All of the instructors were very approachable and willing to share their knowledgeable. I was able to see immediate improvement in my riding when I implemented the skills that I learned!"
"I had a great time, and came away from every drill with something new to incorporate into future rides and races. I'll have more control, a smoother ride, and have more fun out on the trails after this. Awesome!"