RACE #1: WHITING RANCH TIME TRIAL - February 3, 2018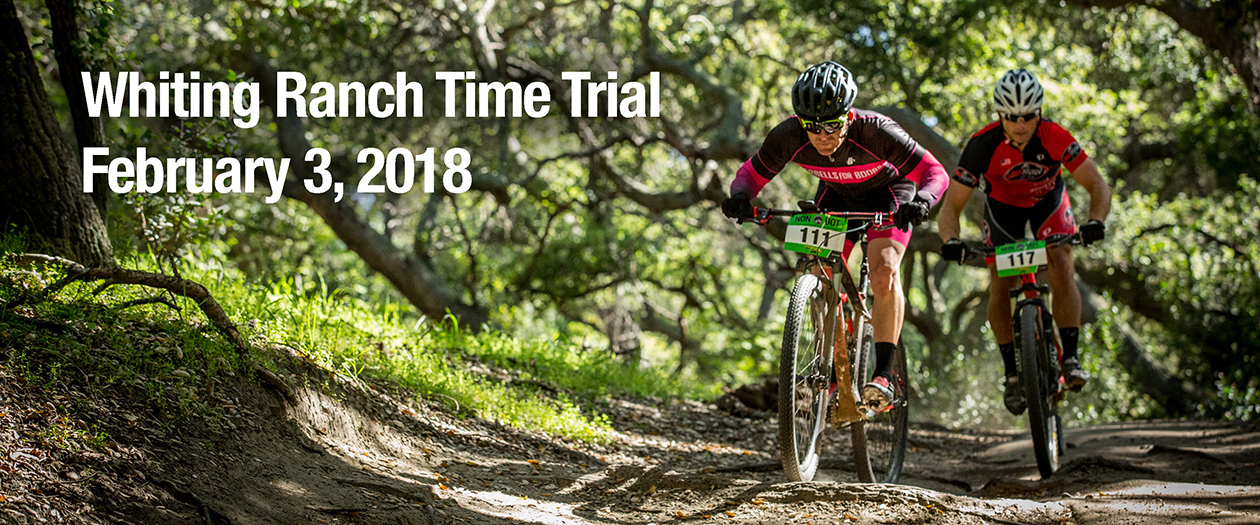 THE RACE
The Whiting Ranch Time Trial is the most unique mountain bike racing experience in Southern California. Incorporating elements of cross-country, enduro and class time-trial formats into one unparalleled event, this off-road race is as challenging as it is fun. Racers leave the line at 30-second intervals. Beginning with a 660-foot climb up "dreaded hill" racers then descend steep, rocky trails before climbing and descending again to the start/finish line. This events demands the ability to maintain composure while metering your effort carefully over a short distance. Everyone loves it.
THE GOODS
Prizes will be given to the overall top male and top female racers, as well as awards for all the different categories. After the race we will have some great companies showing their products in our venue.
REGISTRATION - Sold out for 2018
Series Price: $175 for all 4 races!  This is a $20 discount off the individual races plus includes a free Non Dot Performance Tee.
Individual and Team - $40 (Price goes up to $45 January 29th)
Race photos are included in your registration fee!
Parking is included in the price
Online Registration closes Friday, Feb. 2nd at 9pm
NO Day of registration due to the style of the race
Awards will be given for the top 3 in each category (minimum 3 racers per category)
Cancellation Policy: Refunds will be made until January 22nd (minus processing fee). After January 22nd, transfers will be offered until January 29th. No transfers or refunds week of race.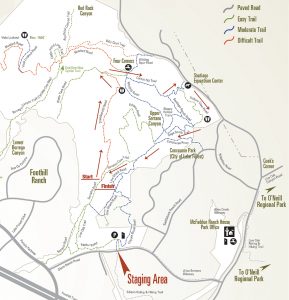 THE COURSE
Length and Elevation: 4 mile loop / Approximately 1000 feet elevation gain
The race starts in the park at the bottom of Dreaded Hill. Racers will head up Dreaded and then descend down towards Mustard and 4 corners, turning right they will head to and descend Cactus. Next, racers will head up to Vulture View road to Sage Scrub then to Line Shack road towards Serrano Cow trail back to the foot of Dreaded. (We are going back to the original course to avoid two way traffic on the fire roads)
If you need to walk any section of the course it is OK! All categories are allowed to walk, run, or crawl sections of Dreaded if they can not make it up any section of the climb. Racers must submit to faster riders catching them on the course. NO Blocking is allowed!
Official Strava link is HERE
Men:
(Age group is based off of your age at the end of 2018)
Beginner (19 and under, 20-29, 30-39, 40-49, 50+)
Sport (19 and under, 20-29, 30-39, 40-49, 50-54, 55-59, 60+)
Expert (35 and under, 36-49, 50 and over)
Elite (Open)
Clydesdale 200 lbs + (Open)
SingleSpeed (Open)
Sorry. No E-Bike category.
Women:
(Age group is based off of your age at the end of 2018)
Beginner (Open)
Sport (Open)
Expert (Open)
RACE DAY SCHEDULE
7:00am - Park Opens (Sunrise is 7:00am)
7:30am to 8:30am- Packet Pickup and Check-In
8:30am - Racer Meeting
9:00am - Race Start (base of dreaded hill)
First racer starts (fastest categories will go first - make sure you know your start time!)
11:00am Race End (determined by number of racers)
11:30am - Awards
Non Dot Adventures holds these mountain bike races in partnership with OC Parks. OC Parks' facilities offer something for everyone — recreation, nature, quality time with friends and family, opportunities to learn about the history of Orange County, and more. OC Parks is committed to managing its facilities to maximize public enjoyment while providing conscientious stewardship to maintain the lands so they are available for generations to come. For more information about the parks that these races occur, please visit ocparks.com.
SPECIAL THANKS TO OUR SPONSORS