RACE #4: IRVINE REGIONAL & SANTIAGO OAKS - June 30, 2018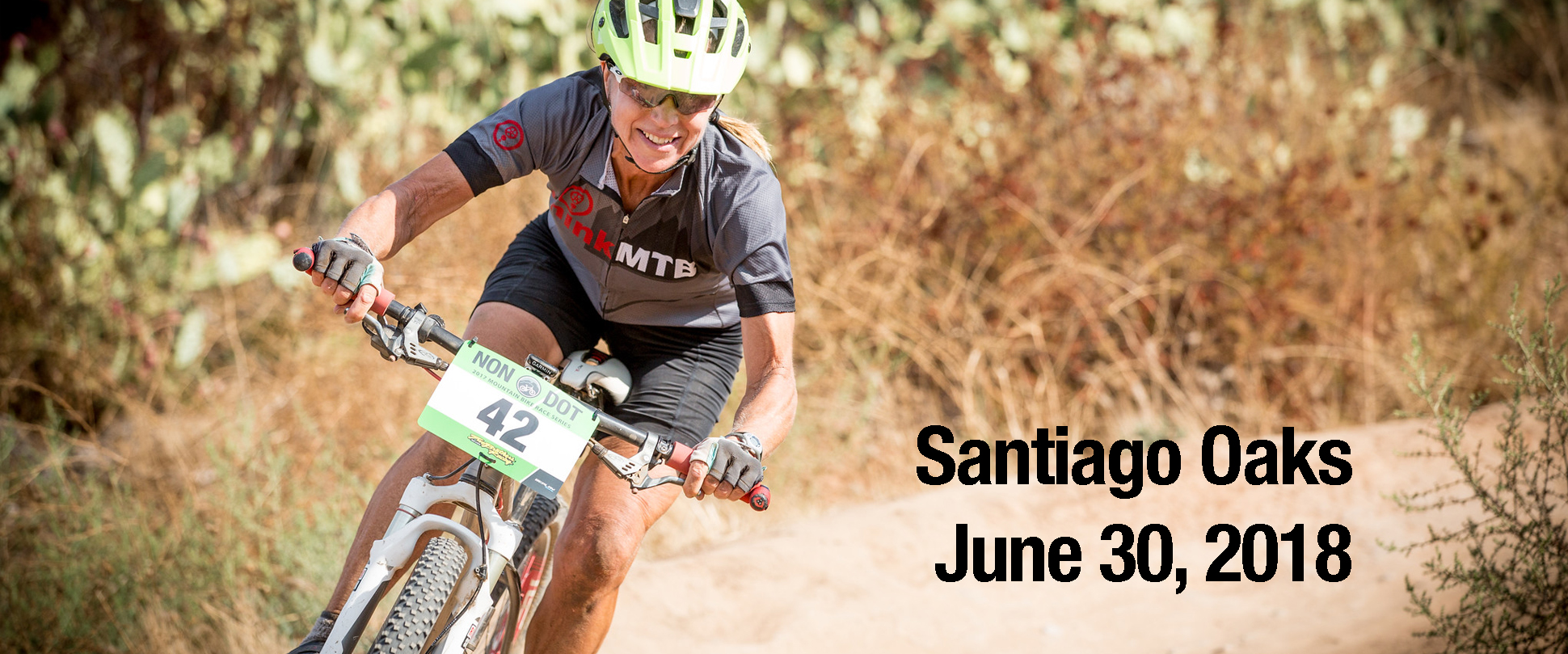 THE RACE
June 30, 2018 - rescheduled date
Our most popular event (and now our series finale!), the Santiago Oaks cross country race attracts 200 racers annually. This World-Cup style XC course includes varied climbs, raw technical descents, banked berm turns and a long flat section for recovery. There's hard-packed single track, sand, rocks and drop jumps. It's topped off with a grassy venue for vendors to showcase their wares and families to enjoy the environment.
THE GOODS
Stick around after the race for food (included in cost of the race) and check out our vendor booths. Awards will be given for top 3 in each category (there must be a minimum of 3 racers per category).
REGISTRATION

Individual and Team – $55 – (Price goes up to $60 June 25th)
Day of Registration – $65 cash only
Race photos are included in your registration fee!
Lunch after the race is included in your registration fee
Parking is $5
Awards will be given for top 3 in each category (minimum of 3 racers per category)
Free Tots "Race", so bring the youngsters. Ages 7 and under. This "race" is meant to get our kids out on their bikes to feel what it's like to race like mom & dad! They get a number plate and prizes. The course for this race goes around our venue and is on a flat dirt surface.
Irvine Park is full of things for the kids to do while mom or dad are out racing. There is a zoo, lots of playgrounds, pony rides, etc.
Irvine Regional Park
1 Irvine Park Road
Orange, CA 92869
Online Registration closes Friday, June 29th at 9pm
Cancellation policy: Refunds will be made until June 11th (minus processing fee). After June 11, transfers will be offered until June 25th. No transfers or refunds week of race.
THE COURSE
The start and finish will be in Group Area 4 of Irvine Regional Park.
Racers will begin by hopping on the horseshoe loop and making a quick right on Willows and continuing on Egret to the Dam.  Down the hill, make a right at the bottom and through the wash and then start the climb up Goat.  Racers will make a left on Bumble Bee and continue all the way up to Oak Trail which they will then ride up to drop Yucca Ridge.  At the bottom, racers will make a tight left turn and climb Coachwhip.  Making a right at the top, racers will ride along Barham Ridge, down Chutes, and out Roadrunner loop to the Finish! When you come off of RoadRunner, you will make a right and go through the wash back towards the venue. We will not be taking you out to the road that goes into the BoyScout camp.
Click the thumbnails below to open the full size maps!
For Beginners
Due to the conditions of the trail, all beginners will go down Chutes Trail instead of Chutes Ridgeline. Chutes trail is typically known as the "climbing route" and will bypass some of the more technical sections of Chutes Ridgeline. All other classes will still go down Chutes Ridgeline.
Each lap is approximately 7.5 miles with 1100 feet of elevation gain.
1 lap – Beginner
2 laps – Expert, Sport, Clydesdale, and SingleSpeed
3 laps – Elite Men
Check out the official Strava segment here
Men:
(Age group is based off of your age at the end of 2018)
Beginner (19 and under, 20-29, 30-39, 40-49, 50+)
Sport (19 and under, 20-29, 30-39, 40-49, 50-54, 55-59, 60+)
Expert (35 and under, 36-49, 50 and over)
Elite (Open)
Clydesdale 200 lbs + (Open)
SingleSpeed (Open)
Sorry. No E-Bike category.
Women:
(Age group is based off of your age at the end of 2018)
Beginner (Open)
Sport (Open)
Expert (Open)
RACE DAY SCHEDULE
Saturday June 30, 2018 @ Irvine Regional Park - Group Area #4 - Just inside the park, make your first left hand turn.
6:00am - Park Opens 
6:30am to 7:30am - Packet Pickup & Check-In
7:30am - Racer Meeting
8:00am - Race Start
10:15am - Estimated finish of race
10:15am to 11:30am - Lunch provided by Wiseguys Pizza
After finish of race – Tot's race (Ages 7 and under)
10:45am - Awards
2017 Santiago Oaks Race – Beechler Photography
Non Dot Adventures holds these mountain bike races in partnership with OC Parks. OC Parks' facilities offer something for everyone — recreation, nature, quality time with friends and family, opportunities to learn about the history of Orange County, and more. OC Parks is committed to managing its facilities to maximize public enjoyment while providing conscientious stewardship to maintain the lands so they are available for generations to come. For more information about the parks that these races occur, please visit ocparks.com.
SPECIAL THANKS TO OUR SPONSORS