RACE #2: CASPERS WILDERNESS PARK - February 24, 2018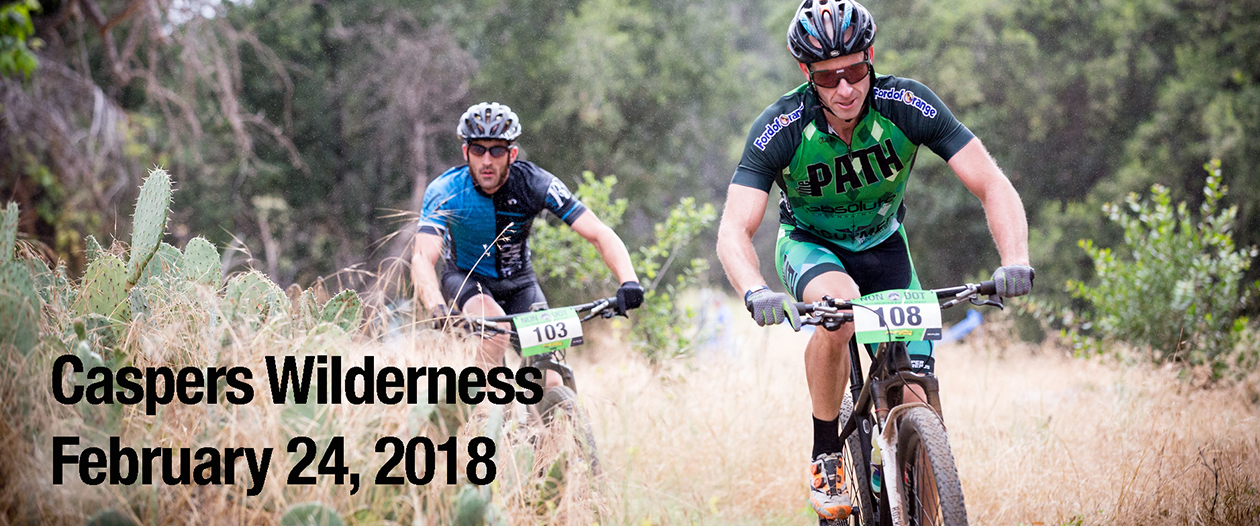 THE RACE - FEBRUARY 24, 2018
This adventure is on a rustic course and runs directly through the vendor area. Long climbs and smoking-fast descents highlight a course that demands constant effort. The main climb is nearly 2.5-miles in length and runs along a ridge line with stunning views of Orange Country and the Santa Ana mountain range. It's followed by a 30-plus mph descent through an oak-tree filled valley. Cheering crowds await at the spectator-friendly start/finish and vendor area.
REGISTRATION
Individual and Team: $50 (goes up to $55 on February 19th, $60 day of)
Race photos are included in your registration fee!
Parking is $5.00 (Parking space is limited. Please carpool if possible!)
Online Registration closes Friday February 23rd at 9:00pm
Awards will be given for top 3 in each category (minimum of 3 racers per category)
Cancellation policy: Refunds will be made until February 12th (minus processing fee). After February 12th transfers will be offered until February 19th. No transfers or refunds week of race.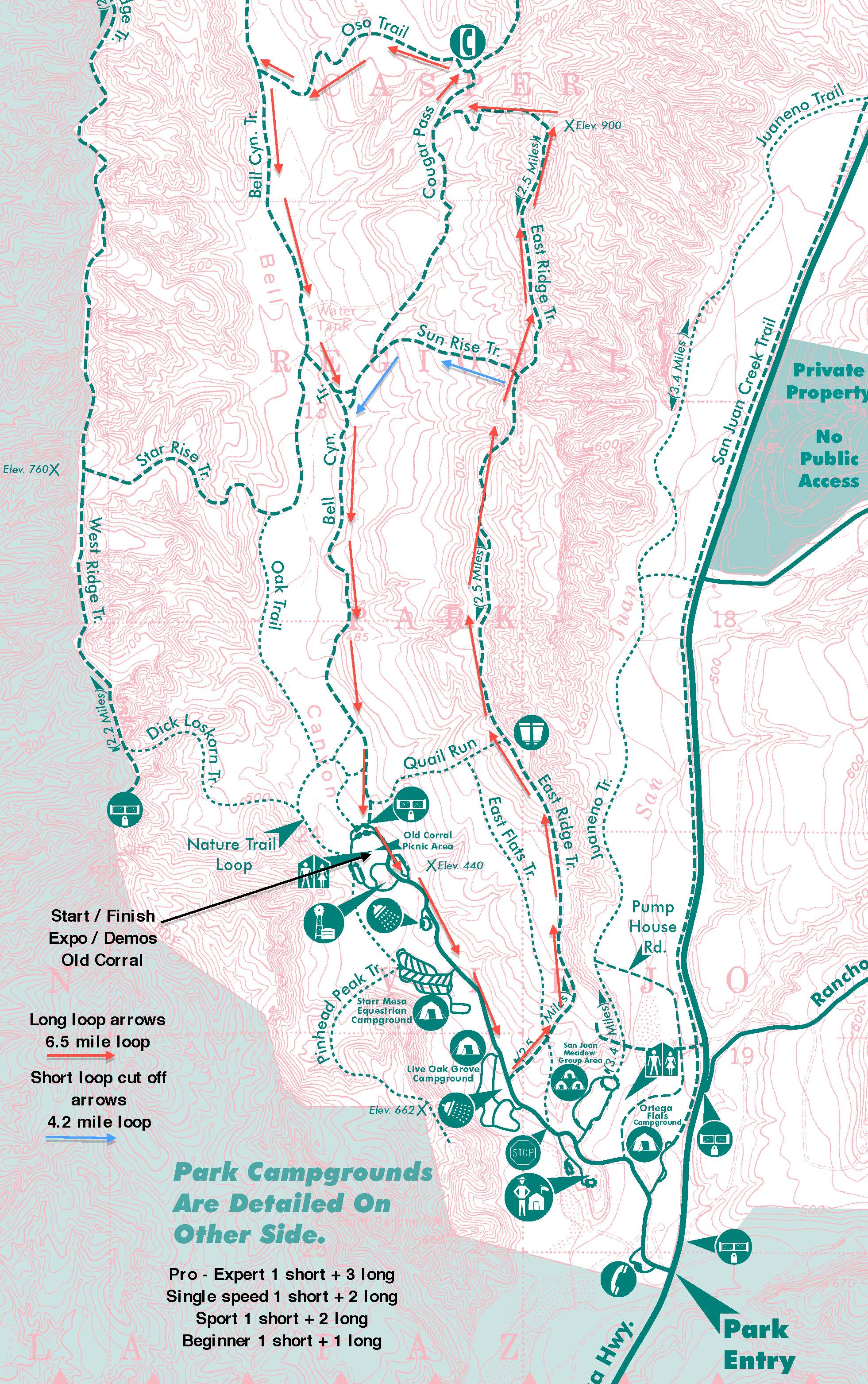 COURSE
Beginners: 1 short lap + 1 long lap
Expert, Sport, Single Speed, Clydesdale: 1 short lap + 2 long laps
Elite: 1 short lap + 3 long laps
(All riders have 2 hours 15 minutes to complete their laps)
Short Loop: 4.24 miles with 530 feet of climbing per lap
The Course starts at the back of the Park in the Old Corral. Riders will go out in 2 minute waves according to category on the pavement for half of a mile to the East Ridge climb. Once riders hit the dirt the race is on! East ridge is a fire break with steep sections and nice reliefs along the way. On the this first lap riders will make a left turn (2.44 miles) down the Sun Rise trail. This will take them to the Bell Canyon trail and back to the Old Corral.
Long Loop: 6.53 miles with 768 feet of climbing per lap
This time riders will race back to East ridge (staying left of the cones). Once on East Ridge they will climb all the way to the top (2.5 miles) and head down the Steep roller coaster style descent (please be careful on this section, speeds can easily go in excess of 30mph). At Cougar Pass turn right and head to the last steep but short climb (25% grade at the top). Then head down Oso trail to Bell Canyon Trail and back to the venue.
Note:  ELITE: add 1 long lap to Expert / Sport  BEGINNER: subtract 1 long lap from Sport
Men:
(Age group is based off of your age at the end of 2018)
Beginner (19 and under, 20-29, 30-39, 40-49, 50+)
Sport (19 and under, 20-29, 30-39, 40-49, 50-54, 55-59, 60+)
Expert (35 and under, 36-49, 50 and over)
Elite (Open)
Clydesdale 200 lbs + (Open)
SingleSpeed (Open)
Sorry. No E-Bike category.
Women:
(Age group is based off of your age at the end of 2018)
Beginner (Open)
Sport (Open)
Expert (Open)
RACE DAY SCHEDULE
7:00 am - Park opens
7:15 am to 8:00 am - Packet Pick up & Check-In
8:30 am - Racer Meeting
9:00 am - Start time (at the Old Corral Picnic Area)
11:00 am - Estimated finish of race
After finish of race - Tot's race (Ages 7 and under)
11:30 am - Awards
Non Dot Adventures holds these mountain bike races in partnership with OC Parks. OC Parks' facilities offer something for everyone — recreation, nature, quality time with friends and family, opportunities to learn about the history of Orange County, and more. OC Parks is committed to managing its facilities to maximize public enjoyment while providing conscientious stewardship to maintain the lands so they are available for generations to come. For more information about the parks that these races occur, please visit ocparks.com.
SPECIAL THANKS TO OUR SPONSORS