NON DOT GRAN FUNDO - April 6, 2019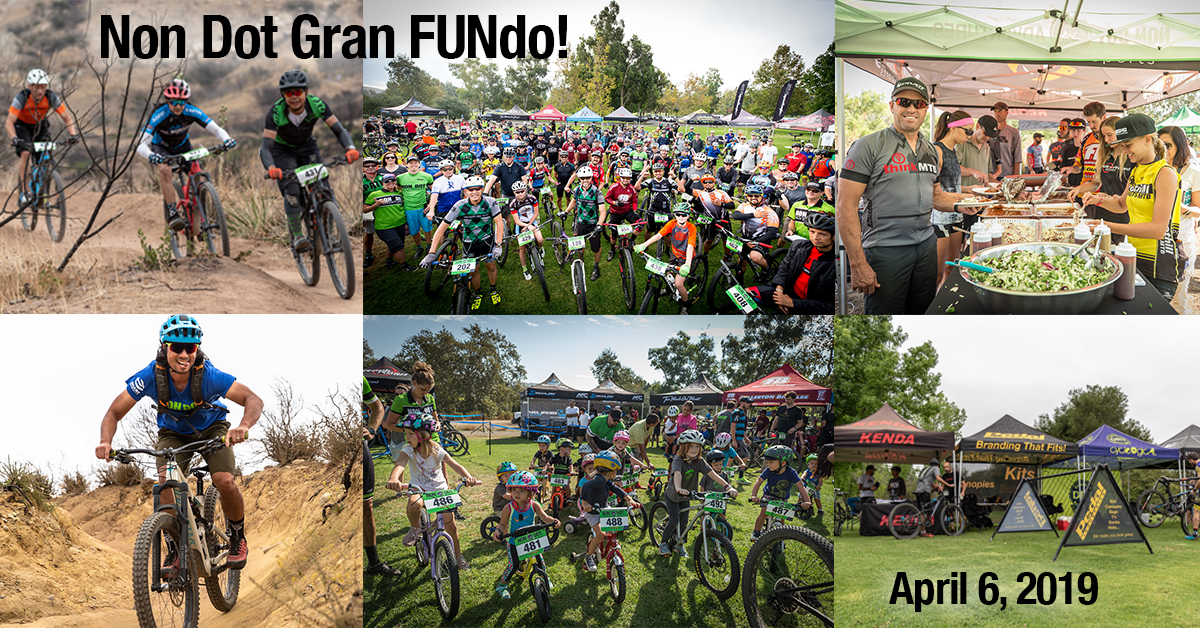 THE RIDE
2019 GRAN FUNDO PHOTOS
April 6, 2019
Join us for the first annual Non Dot Gran FUNdo! A Gran Fondo done Non Dot Style. The 50k course will consist of all the best a mountain bike course can give. Steep climbs and descents, beautiful scenery, and lots of single track. Due to trail conditions in Fremont Canyon, this years course will be two loops in Santiago Oaks / Weir Canyon.  There will be four aid stations along the way to fuel your legs and mind! Keep your eye out for the Non Dot sections! Riders who ride these lines will be entered to win some great raffle prizes. The 25k route will be one loop through Santiago Oaks and Weir Canyon.
THE GOODS
Stick around after the ride for food (included in cost) and check out our vendor booths. Each registered participant will get an event T Shirt, Tasco gloves, and Non Dot socks!
REGISTRATION

50k ride - $99 - (Price goes up to $110 March 3)
25k ride - $99 - (Price goes up to $110 March 3)
Day of Registration – $125 day of registration
Gloves are not included with race entry after March 3 (T-Shirts will not be guaranteed)
Photos are included in your registration fee!
Lunch after the ride is included in your registration fee.
Parking is $5
No Refunds!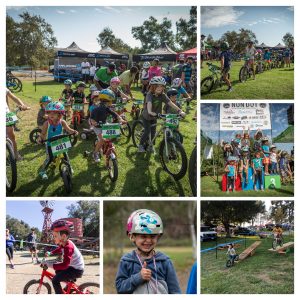 Free kids clinics, so bring the youngsters. We will be teaching 3 FREE 20 minute kids clinics.
12:30, 1:30, 2:30 at our venue. Kids will learn basic control or bikes and get to use our "Non Dot" Features!
Irvine Park is full of things for the kids to do while mom or dad are out riding. There is a zoo, lots of playgrounds, pony rides, etc.
Irvine Regional Park
1 Irvine Park Road
Orange, CA 92869
Online Registration closes Friday, April 5th at 8pm
Cancellation policy: There are NO REFUNDS. If the ride is canceled because of weather or an act of God you may transfer your registration to the next year. We do not have a back up date for 2019.
THE COURSE
The start and finish will be in Irvine Regional Park.
Due to trail conditions in Fremont Canyon, this years FUNdo will be two loops of the Santiago Oaks / Weir Canyon loop.  Make sure to stop at the aid stations along the way. There will also be "Non Dot" lines that you can ride to be entered in a drawing for awesome prizes! Do you Non Dot?
Strava link here: Santiago Oaks / Weir Canyon 25k
SCHEDULE
Saturday April 6, 2019 @ Irvine Regional Park (More info coming soon)
6:00am - Park Opens
6:30am to 7:30am - Packet Pickup & Check-In
7:30am - 50k Start
10:00am - 25k start
12:00 - Food will be served
1:00pm - Venue games and raffles
2017 Santiago Oaks Race – Beechler Photography
Non Dot Adventures holds these mountain bike races in partnership with OC Parks. OC Parks' facilities offer something for everyone — recreation, nature, quality time with friends and family, opportunities to learn about the history of Orange County, and more. OC Parks is committed to managing its facilities to maximize public enjoyment while providing conscientious stewardship to maintain the lands so they are available for generations to come. For more information about the parks, please visit ocparks.com.
SPECIAL THANKS TO OUR SPONSORS